Finding your outdoors in Fulton County is limitless! From its waterways to byways and unbeaten paths, Fulton County offers an abundance of attractions, lakes, parks, trails, camping sites, hunting opportunities, sporting venues and events, just to name a few! Grab your boots, fishing poles, cameras, and whatever you may need and let us help you find your outdoors. 
Fulton County Visitor's Guide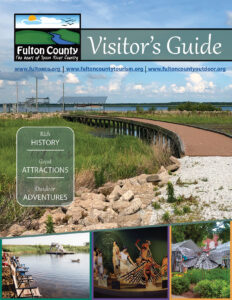 Browse, download the guide! Request a copy of the guide. 
Located in West Central Illinois and known for its natural beauty. Fulton
County is a hunters and fisherman's best kept secret. It is renowned for
Native American archaeology, agricultural evolution, literary achievements, and many other distinctive events. Whether it's your first visit or not, there's always something new to explore, discover, encounter, find, experience and enjoy!